Overview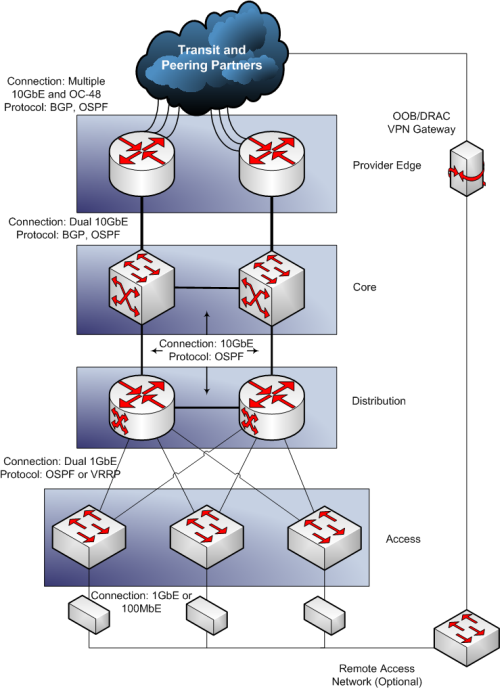 Our network is designed to be fully redundant and self healing from top to bottom. The only possible single point of failure is the connection to the physical server which limits any risk to a single rack or a single server. Each Foundry FESX-448-PREM access switch dual uplinks to a Foundry FESX-424-PREM allowing for local layer 3 switching, policy assignment and egress DoS protection. The FESX provides redundant service by utilizing OSPF or VRRP ensuring that both layer 2 and layer 3 traffic has an alternate path in the event of a failure.
Each FESX connects via 10GbE to sets of Foundry BI-RX-8′s which act as layer 3 aggregation routers. In addition to the direct connections to the BI-RX's, each FESX connects to its hot-spare through a dedicated 10GbE connection ensuring that in the event of a physical network cable/fiber cut the device does not need to degrade its master status and can continue passing traffic through its hot spare, thus limiting the amount of automated actions taking place in the event of a minor failure.
The BI-RX-8′s in turn connect to Force10 E600′s via 10GbE. The E600′s provide redundant 10GbE connectivity to our transit providers and also interface with multiple Juniper M20′s which peer with other providers via redundant OC-48 connections providing a maximum throughput of ~35Gbps. The E600′s and the M20′s communicate internally via iBGP allowing for extensive route mapping and traffic shaping helping us to provide you with the fastest connections and least latent path possible.